Se Habla Español

Special Discounts Offered for Veterans/Military Personnel, Teachers, and First Responders

Visit Our Specials Page for Sale Prices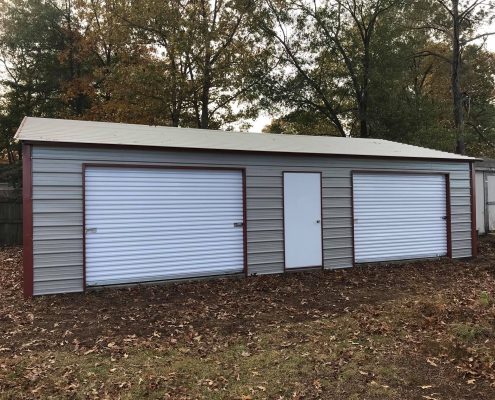 1
Step 1: Select your building type: Barn, Carport (Open or Enclosed), or Garage.
2
Step 2: Choose the size of your building, whether you want it partially or fully enclosed, and the roof.
3
Step 3: Select your wall type: Vertical or Horizontal.
4
Step 4: Select your roof type: Vertical or Horizontal.
5
Step 5: Choose your Colors.
Great customer service and excellent pricing. I ordered my carport on Friday, and the exceptionally courteous crew came in on Wednesday morning, and put it up. I strongly recommend using these folks, if you need a metal structure. Well done!
Great Deal and Great customer service!!!! Already sending recommendations your way!!!! News travel fast when I posted my completed project on social media.
We are so pleased with the whole experience with Vega metal buildings. They gave us a price that they stuck to, came out a week later did the cement, and did a beautiful job. The employees were all nice and respectful. A week later a different set of guys came out and did a great job on our 30x30x10 garage. They were super nice. We are pleased with the whole experience.kathy and hose were real professionals. Would recommend this company if you want a quality building at a good price.Thank you to everyone.
Super fast delivery and installation, couldn't be happier!
I couldn't be more pleased with VMS and their professional installers. Their quality of work and materials along with the communication is second to none. I had 2 buildings built along with concrete and am completely satisfied! Highly recommend!!
Kathy, Fidel, and Jesus were unbelievable to work with! Best company by far!!! Best concrete prices around, beautiful metal building too. They worked with every need I had and I would not HESITATE to use them again. Actually through people seeing my building they have inquired about one for them. Thanks Kathy, you are awesome!
Angela and I would like to thank you for all you did for us. Filing for the permits and calling in our inspections. Fidel and his concrete crew were great, and Miguel and his install crew were very professional. It was a pleasure doing business with Vega Metal Structures. Thank you Cathy, Fidel and Miguel for everything! Angela and Luis Reveles, God Bless you all!
VMS & Concrete, LLC will: 
Save you money. Metal structures are an affordable way to add outdoor storage space to your home or business. Less expensive than structures made of other materials, metal buildings are a popular choice for many different storage types. 

 

Save you time. Your metal building can be constructed in a fraction of the time it would take to complete other structures. When you need storage fast, a metal storage shed building can be constructed in just a few days. 

 

Save you space. Free up space in your garage or your home by adding a metal building. When you get all the extra stuff out of your garage and into a separate storage building, you can use it for its intended purpose: to park the cars you drive on a daily basis. It also keeps you from having to clean ice off your windshield on winter mornings before work. Add a garage or carport to your home and enjoy extra outdoor storage and protection for your vehicle. 

 

Provide extra security. Keeping your vehicles in an enclosed, locked garage or storage shed means they are more secure than when they are parked outside. Protect your valuables with a solid, secure metal building. 

 
Our Service Area
VMS provides quality custom buildings throughout the Southeast:
North Carolina
South Carolina
Georgia
Florida
Tennessee
Virginia
West Virginia