Carports offer valuable shelter for vehicles of all kinds from cars to campers. When you need a roof, but not necessarily an enclosed space, a carport is an easy, affordable way to protect your assets.
VMS & Concrete, LLC (also known as Vega Metal Structures) designs and installs metal carports in NC and surrounding states with guaranteed fast turnaround. VMS carports are fully customizable and can be designed to fit any home or commercial building, or to stand alone.  
Attached Metal Carports with Storage have Many Benefits
When you have an attached carport added onto your home, you get a lot of value for your money. Consider the many benefits of metal carports in NC: 
Shelter for your vehicles. Parking your car under a carport will help to protect it from the elements, extending the overall life of your vehicle, especially the exterior. This is especially true for RVs and other recreational vehicles that don't get daily use. 

 

Extra storage. Metal carports with storage space serve a dual purpose. They protect your vehicles while offering outdoor storage at the same time. Store anything from bicycles to sporting gear that you prefer to keep outside the house. 

 

Shelter for you. Don't want to carry groceries in the rain? Don't worry. Your carport will provide all the shelter you need to get things from the car to the house without getting wet. It's also helpful when loading the car for a trip. 

 

Other uses. A carport makes an excellent picnic shelter, providing shade and a way to stay out of the rain while still enjoying the outdoors. It can also be a covered outdoor workshop, a dry storage area, or a crafting area.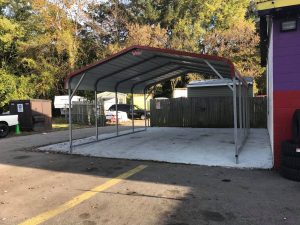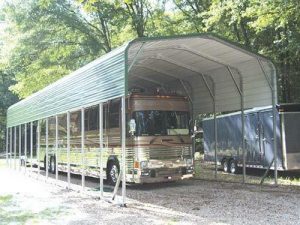 Metal carports in NC by VMS & Concrete, LLC are fully customizable, meaning an original design can be created to suit your preferences. Your carport can be designed to match your current exterior color and style for a seamless transition. The size and flooring are other customizable options.
Customizable Carports can be 

Designed

 to Match any Exterior
The size and flooring are other customizable options. A concrete floor is usually recommended for best results and the size of your carport can be based on how many vehicles you need to park and how much storage space you need. You can even have your carport enclosed at a later date, making it more like a garage.  
VMS & Concrete, LLC Offers Quality Customer Service
When you need a carport installed quickly, VMS can make it happen. Your custom carport can be built and installed faster than other options available. Whether you just moved into a new home that doesn't have any vehicle shelter, or you just purchased an RV or boat and you want shelter for it to protect the condition, a carport is an ideal option. 
Metal carports with storage or without can be built and installed over concrete slabs as well as dirt or gravel. Concrete provides a dry, flat surface which is best for tire preservation, especially for vehicles that aren't driven on a daily basis. If you're interested in a custom metal carport, call (336) 799-4416.