Are you in need of poured concrete? Whether you need a driveway, walkway, patio, parking lot, or another solid surface, it's wise to hire an experienced NC concrete contractor to handle the job. 
Many steps are required to create a concrete surface that will look good and last a long time. There are many concrete companies in NC that can pour your concrete, but not all will go to the lengths that VMS & Concrete, LLC (also known as Vega Metal Structures) will to ensure you get your desired result. 
Steps Required for a Quality Concrete Project 
Planning. This is the most important step. A quality concrete project will only be successful if the proper planning is done ahead of time. Planning includes designating the site, determining the dimensions, choosing the right mix, and deciding on the finish. An expert NC concrete contractor from VMS will lend their knowledge and experience in the planning stage to ensure your project goes smoothly and meets your expectations. 

 

Preparing the site. The site must be prepared to receive the concrete, which includes removing rocks and debris, leveling the ground, possibly regrading for proper water runoff, and laying out the border. If the site is not sufficiently prepared, it could potentially ruin your concrete surface. Concrete can easily crack, shift, or even fail to set up properly when the ground underneath isn't properly prepared. 

 

Pouring premixed concrete. VMS & Concrete, LLC, one of the best concrete companies in NC, will mix the concrete before bringing it to you. This helps to keep the site clean and saves time. Once the site is sufficiently prepped, the concrete will be carefully poured and spread to fill the designated area.

 

Finishing the surface. Whether stamped, broom, or smooth, the finish you choose will determine how your concrete sets and what it will look like for years to come. You can even incorporate symbols, designs, borders, and more into your concrete for extra personalization.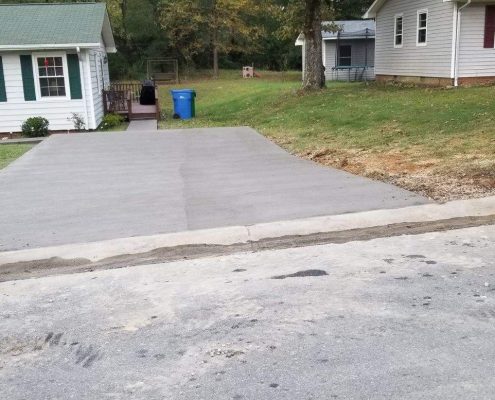 VMS & Concrete, LLC will effectively and efficiently handle every step in the process to creating your concrete surface. The end result will be an attractive, functional product that will last for years to come.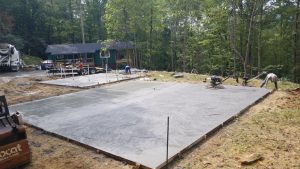 Financing is Available for Concrete Services as Well as Metal Buildings 
If you need concrete now, but the entirety of the cost is just not in your immediate budget, financing is available through Home Loan Bank and One Main Financial. You can make payments over a preset amount of time to gradually pay for your concrete project. Financing is available for residential and commercial concrete services because VMS & Concrete, LLC wants all customers to be able to afford quality concrete for their home or business.
Concrete Repair Services by an Expert NC Concrete Contractor Can Help You Save Money
Do you have a cracked, crumbling, or sinking concrete surface? VMS can repair your driveway, walkway, patio, or other concrete surface. Avoid the high cost of replacing the surface by having it repaired instead. Driveway sealing fills cracks to keep weeds at bay, and when done periodically, can keep your concrete in the best possible condition. Not all concrete companies in NC offer the same quality of service as VMS & Concrete, LLC, so be sure to call (336) 799-4416.