Are you in need of additional garage space? Metal garages in North Carolina and surrounding states are incredibly useful and convenient. Whether you use it for parking the car you drive on a regular basis, other vehicles that you use more sparingly, or simply for storage, a metal garage offers you many options.
Metal Garages are a Benefit to Homeowners and Businesses
Convenience. Parking your car in a garage means you can avoid getting in and out of your car in the rain. It also means you won't have to defrost your windshield on cold mornings and your vehicle will stay cooler on hot days because it's out of the sun. You gain additional storage for recreational vehicles, tools, and other belongings. Metal garages can be easily installed on your own property in a much shorter time than other types of garages. 

 

Protection for Vehicles and other Items. Keeping your vehicles out of the elements preserves their condition and extends their life. Prevent your paint from fading and dulling as quickly. Your tires will last longer too. Tools, bicycles, sporting equipment, and other items will also stay in better condition over time when they are stored inside a garage. 

 

Security for your Valuables. A sturdy, locked garage offers added security measures to keep your valuable items safe from theft or vandalism. 

 

Affordability. Metal garages in North Carolina and surrounding states are more affordable than many other options such as permanent add-ons made of other materials.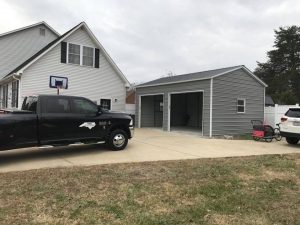 Before you start searching for garage sheds for sale, think about how you plan to use the garage. That will help you determine your specific needs. VMS & Concrete, LLC (also known as Vega Metal Structures) can design you a custom metal garage that will meet all of your criteria.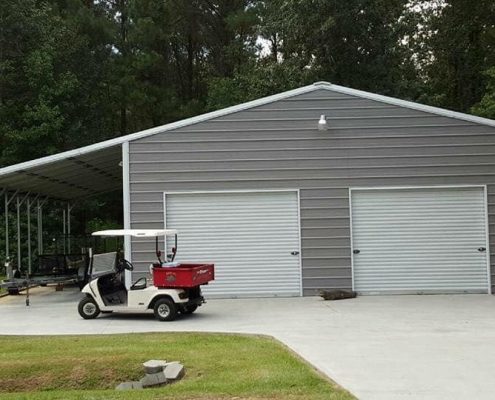 The Metal Garage Sheds for Sale from VMS and Concrete, LLC are Fully Customizable
Your garage can be fully customized to meet your needs. Every option from style and color to features can be designed to be exactly what you want for both appearance and function. Customizable options include: 
Doors. Garage sheds for sale can have rolling doors, sliding doors, automatic doors, man doors, and any combination of these. 

 

Windows. Metal garages can have windows as well as skylights to let in plenty of natural light and minimize the amount of energy needed inside. The number and size of windows should be determined by the way you plan to use your garage. 

 

Size. Your garage can be designed to fit as many vehicles as you need, but remember to consider any additional storage space needed.

 

Flooring. Garages can have concrete floors, which is recommended, but also gravel or dirt. Concrete floors give your vehicles a dry, flat surface to park on, which preserves tires. Concrete also makes a smooth transition from driveway to garage floor. VMS offers complete concrete services for your garage, driveway, and any other area on your property.

 
Call VMS & Concrete, LLC (336) 799-4416 to get started on your custom garage today.