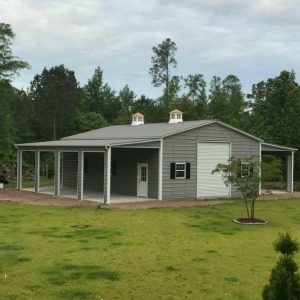 When you spend money on a metal building you want to be sure it will last. In order to get the most use possible out of your building you'll need to perform routine maintenance to prevent premature wear and tear. Metal buildings in North Carolina can last for decades when proper care is taken. Follow these metal building maintenance tips to keep yours looking good and functioning properly for many years.
Trim trees and bushes

.

Cut back any bushes that are close enough to touch the building, as they can cause damage to the exterior. Keep trees trimmed and keep an eye out for dead branches that are likely to fall and damage the roof.

Clear off snow.

It doesn'

t s

now often on metal buildings in North Carolina, but when it does it's important to clear the snow off as soon as possible. Snow puts an incredible amount of weight on the building and can promote rusting.

Wash the exterior and interior.

A pressure washer will usually do the tric

k to remove dirt and grime

from the exterior

. Inspect your metal building periodically and look for any signs of dirt buildup and wash your building if you see any. Dirt can eventually turn into mold or cause your building to prematurely rust. Simply keeping it clean will prolong the life of your building.

How you wash the inside of your building will depend on how you use the interior and whether or not you have insulation. Spray, scrub, or wipe down interior walls and floors as you see fit.

Keep gutters and drains clear.

It's necessary to fight the build-up of debris in your gutters and drains. A clogged drainage system can cause mold growth and rusting.

Clear out drains, as necessary, more often if your building is under trees.

Inspect all doors.

Check on your doors frequently, including both garage doors and

entry

doors. Oil hinges and grease the moving parts of your sliding garage door, whether manual or automatic. Check weather stripping and make sure moisture isn't leaking in.

Check insulation.

If your metal building is insulated, check for any

cracks,

holes

,

or

signs of

moisture

which could turn into mold growth. Seal up any openings to prevent outside air and moisture from getting inside your metal building.

Cosmetic maintenance.

Occasionally you may need to prime and repaint some areas if you notice scratches or scrapes. Paint and primer offer a much needed layer of protection for the steel

your building is made of.
Take the Time to Protect your Investment
Metal buildings are durable and offer an affordable alternative to wood or brick buildings. They even require less maintenance than buildings made of other materials, but maintenance is still necessary. Anything you own, if you want it to last, will likely require some type of maintenance. Whether it's cleaning, repair, painting, etc. it's an important step that will help to prolong the life of your building and allow it to function more efficiently. Metal buildings in North Carolina, though not as often exposed to ice and snow, will face a lot of humidity during the spring, summer, and fall. Humidity can cause moisture damage when not properly managed.
If you have any questions about proper maintenance for your metal building, call VMS and Concrete: (336) 799-4416.
https://vegametalstructures.com/wp-content/uploads/2020/03/vega-logo-new-6a.png
0
0
Chaunte Rankin
https://vegametalstructures.com/wp-content/uploads/2020/03/vega-logo-new-6a.png
Chaunte Rankin
2019-04-23 20:57:42
2019-04-26 15:19:36
Metal Building Maintenance Tips