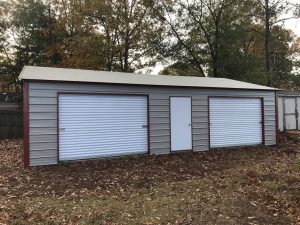 Of all flooring options for metal buildings, concrete still remains the most popular. Whether you are adding a garage, carport, shed, barn, or another outbuilding, a concrete slab is a solid foundation. Concrete has a lot of benefits. Just be sure to hire an NC concrete contractor to pour it properly, or you could run into a lot of problems. Consider the following reasons to include a concrete foundation in your metal building installation project.
Sturdiness. Concrete is a sturdy foundation for your metal building. It doesn't move, bend, or shift unless not installed properly. The occasional crack may occur, but typically only if the ground under the concrete was not properly prepared and leveled or if the concrete is abused in some way, such as with excessive weight or force. Cracks can be easily repaired by a licensed NC concrete contractor.
Solid surface to anchor your building. Metal buildings are sturdy, but only when well anchored. In extreme weather, a metal building could be damaged or even uplifted. But when anchored to a solid concrete foundation, it's not likely to go anywhere. Anchor bolts are set into the concrete when it is poured and the walls of the building will be bolted securely into the concrete.
Customizable. Concrete can be poured to the exact dimensions you need for your building. It is completely customizable in that way, making it easy to create a foundation that precisely fits the building you are constructing. You can plan for an extra concrete pad on any side of your building, for example, if you plan to include a lean-to. Add a driveway or parking area. The options are endless.
Level surface. When the ground is properly prepared and leveled before pouring concrete, and as long as the concrete is poured and set correctly, you should end up with a level surface. A level surface is necessary for your metal building to be properly installed. Avoid a leaning or unstable building by starting with a concrete foundation.
Resistance to moisture. Concrete is moisture-resistant, meaning it gets wet, but the water doesn't damage it. Its water resistance makes it ideal for outbuildings where vehicles and tools may sometimes be put up wet. Mowers and lawn equipment, tractors and farm vehicles, pool equipment, and whatever else may be wet at the time of storage won't damage the concrete floor of your metal building. Concrete can even be sealed or coated for additional moisture protection.
Vega Metal Structures and Concrete, LLC Can Complete Your Entire Metal Building Addition
If you decide to start with a concrete foundation for your metal building, VMS can handle that as well as your building installation. Planning for the proper timeframe, VMS will prepare the surface, pour the concrete, install anchor bolts, and give it plenty of time to set before installing your building. Not all metal building companies are also NC concrete contractors, but Vega Metal Structures and Concrete, LLC can do it all. Call today to get your metal building project started: (336) 799-4416.
https://vegametalstructures.com/wp-content/uploads/2019/02/23668973_1794825130818434_9081057006200169935_o-header.jpg
1350
1800
Shane Murphy
https://vegametalstructures.com/wp-content/uploads/2020/03/vega-logo-new-6a.png
Shane Murphy
2019-06-19 14:45:43
2019-07-15 19:46:44
5 Reasons to Add Concrete to your New Metal Building