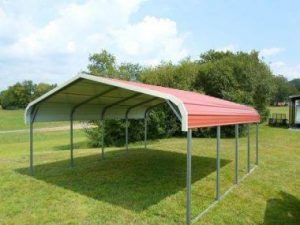 Are you considering a metal carport? Adding a carport can add significant value to your home, as well as preserve the value of the vehicles you park underneath. Your home and your car are probably the largest financial investments you've made. Any additional investment toward these items is beneficial to your financial situation.
Here's how metal carports can add value to homes and autos.
Metal Carports Offer the Greatest Value
A metal carport, as opposed to other materials, offers the best value. Metal carports cost less to build and install when compared to other carport materials, so you essentially get more for your money. For a small investment in a metal carport, your home value can increase by as much as 20%.
Customizable Metal Carports Can Be Designed to Match Your Home
Your metal carport can be custom made to assimilate to the style of your home. The color, texture, and shape can blend right into your current home's exterior so that it doesn't appear to be an add-on. A carport can be custom designed to fit the height and length of your home and accommodate as many vehicles as you need room for.
Protect Your Vehicles From Weather Damage
There are many advantages to parking your vehicles under a carport. For one, you can avoid the effects the weather can have on the body of your vehicle. Sun, rain, snow, and ice can take their toll over time, causing peeling and fading paint, rusting of the body, and damage to the tires. Hail can damage your vehicle instantly, causing dents and chips in the paint during just one storm. Even your interior suffers damage from constant exposure to the sun. But not when you have a carport to offer protection from the elements.
Preserve the Condition of Recreational Vehicles
Do you own valuable recreational vehicles? If you have an RV, a boat, a motorcycle, or any other extra vehicles, a carport can preserve their condition as well by providing shelter from weather. If you only use your RV part of the year, parking it under a carport can prevent significant weather damage during the off season.
Experience the Convenience of a Connected Metal Carport
Do you enjoy unloading groceries from the car in the rain? Or how about loading the car for a trip? An attached metal carport allows you to access your vehicle from your home while staying under a roof. Whenever you want to go somewhere, you no longer have to wait on the weather or grab an umbrella just to get to the car. No need to dash from the car into the house in the rain and no icy walkway to navigate in the winter time.
A Detached Carport Adds Value to Your Property
There are plenty of benefits to a detached carport on your property as well. Carports can stand alone as shelters for vehicles as well as for dry storage of other items like wood, tools, or equipment. Carports can also be added onto other outbuildings such as barns or sheds. When you install a carport anywhere on your property, you are increasing the value of your entire homestead.
An Open Carport Has Benefits Over an Enclosed Garage
Sure, an enclosed garage can be a great benefit to a home. But there are certain advantages that carports offer that a garage can't. For one, a carport makes a great picnic shelter or other outdoor covered area. It offers better ventilation so it will stay cooler than a garage. It can be a workshop, an outdoor exercise space, or whatever else you need an outdoor covered space for. And it is definitely a less expensive home addition.
A Concrete Foundation Offers Additional Value
For the purpose of parking vehicles as well as other uses, a concrete foundation for your metal carport is recommended. A concrete slab helps to protect tires from moisture and damage from sitting on the ground. It also encourages precipitation runoff.
Vega Metal Structures and Concrete Offers Superior Value
Metal carports designed and installed by Vega Metal Structures are made with high quality materials at affordable prices. You can even design your own online to see what it will look like before you purchase it.
https://vegametalstructures.com/wp-content/uploads/2020/03/vega-logo-new-6a.png
0
0
preston
https://vegametalstructures.com/wp-content/uploads/2020/03/vega-logo-new-6a.png
preston
2020-09-09 02:15:01
2020-10-09 02:20:00
Metal Carports Add Value to Home and Autos