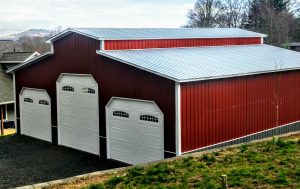 Metal Buildings in NC can be modified will all sorts of features and upgrades. Whether you're just looking into purchasing a metal building for the first time or you want to make some improvements to your existing metal building, here are some add-ons to consider.
Skylights.

Putting a few skylights in the roof of your metal building will let in natural light for a brighter space. You can also reduce your energy usage by reducing your use of electric lighting.
Automatic garage door opener.

Metal garages can be equipped with automatic door openers for your convenience. Open the door from a remote inside your car and pull right in.
Insulation.

Adding insulation is an energy-saving feature that can also make your building more comfortable. Whether or not insulation is worth adding depends on the use of the building. If people or animals will be spending much time inside, insulation is a worthwhile addition. It will also prevent condensation inside, protecting your valuable assets.
Wainscoting.

Both attractive and functional, wainscoting is an extra metal panel fitted along the bottom of the exterior of a metal building. It is usually a coordinating color with the trim of the building and helps to divert water away from the building.
Cupolas.

Typically seen on barn roofs, often adorned with a weathervane, a cupola adds character to a metal barn, giving it an authentic classic look.
Lean-to.

The roof can be extended out beyond the edge of the building far enough to create a porch, carport, animal housing, storage, or many other uses. The extra roof cover provides protection from the rain and diverts water away from the building, doors, and windows.

These are some of the many customizable options for metal buildings in NC. Adding a metal building will increase your property value in any case, but extra features will enhance the appearance and functionality, maximizing the value and appeal.

Customize your Metal Building with the Latest Features Available

Vega Metal Structures designs and manufactures metal buildings in NC with a wide range of features, offering the latest options on the market. From skylights to wainscoting, metal buildings can be equipped with features that enhance convenience and aesthetics. Even with added features, metal buildings are still an affordable way to add storage, parking space, and more to your property. Call Vega Metal Structures today find out all the ways to customize your metal building: (336) 799-4416.
https://vegametalstructures.com/wp-content/uploads/2019/02/vega-building-background.jpg
1971
3125
Shane Murphy
https://vegametalstructures.com/wp-content/uploads/2020/03/vega-logo-new-6a.png
Shane Murphy
2019-07-10 14:56:28
2020-02-17 14:44:46
Features you can Add to Enhance your Metal Building