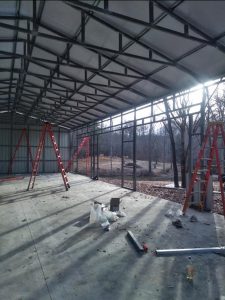 Steel buildings are one of the easiest, most affordable options for adding a shed, garage, or other outbuilding to your property. Metal buildings in NC have a wide variety of uses from housing lawn equipment, to for commercial purposes such as a mechanic's shop.
Depending on the intended use of the building, it may be a good idea to include insulation. Insulation helps to keep the temperature more even inside the building and can also prevent moisture from collecting inside. If you're considering adding insulation to your metal building, here are 3 tips.
It's best to install insulation during building
It is possible to add insulation later, but it will be more difficult. Planning for insulation when the building is designed and installed is the best way to ensure that the building itself and the items stored inside will be protected from the extreme temperatures.
But in case you didn't include insulation from the start and you want to add some now, or if there's a metal building on the property you just bought that isn't insulated, it's definitely still possible to add it afterward.
Choose the best type of insulation
There is not just a one-size-fits-all type of insulation for all metal buildings in NC. There are a few different types that have distinct pros and cons.
Radiant Barrier Insulation.

This is the best option for insulation if you are adding it during the installation of your metal building because it must be placed between the frame and the panels. If your building is already constructed, it requires you to remove the panels from the frame to place the insulation and then put them back on. Radiant insulation is metallic, which transfers heat away from the building, making it the most efficient type of insulation for metal buildings.
Spray Foam Insulation.

When your building is already constructed with the panels in place, spray foam is an easier way to insulate your building. You won't have to remove the panels, just spray the foam over the desired area and allow it to harden. The only downside is that once it hardens, it is very difficult to remove. But the benefit is that it seals off your building, keeping out pests as well as dust.
Fiberglass Sheet Insulation.

This is the pink or yellow cotton candy-looking insulation you often see in your attic, basement, or unfinished parts of a home. This type of insulation can be used, but the other methods are considered to be better as they are more moisture-resistant and are more likely to stay in place.
Take fire resistance into account when choosing insulation.

Whether your metal building will be a workspace or a place to store vehicles, there is always a higher risk of fire because of fuel and sources of heat. Be sure to use fire-resistant insulation.
Vega Metal Structures Can Insulate your Metal Building
Whether you are planning to purchase a new metal building or you want to add insulation to your existing metal building, Vega Metal Structures and Concrete can help. Vega can recommend the best insulation options for metal buildings in NC and either install it as a part of your building installation or add it to your existing building. Call (336) 799-4416 today to speak with the experts at Vega Metal Structures and Concrete, LLC about insulation options.
https://vegametalstructures.com/wp-content/uploads/2020/03/vega-logo-new-6a.png
0
0
Chaunte Rankin
https://vegametalstructures.com/wp-content/uploads/2020/03/vega-logo-new-6a.png
Chaunte Rankin
2020-01-30 18:47:58
2020-02-05 19:04:29
3 Tips for Insulating your Steel Building