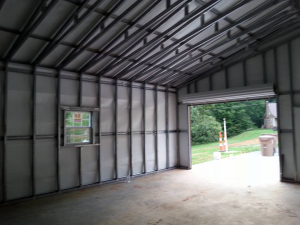 Thinking about adding a metal outbuilding to your property? Whether you're considering a backyard shed, garage, barn, or other type of building, you may need one or more permits to do so. There are a few factors that determine the need for a permit, so before you start shopping for metal buildings in NC, here are some things you need to know.
Size is an important factor when it comes to zoning permits
A small shed, such as 8×10 or smaller, will rarely require a permit to install. However, anything bigger may be susceptible to zoning restrictions. If you have any questions at all about the size of the metal building you want to install and whether or not you need a permit, it would be best to consult your city or county building permit department.
The intended use of the building matters
If you plan to use it for storage, you might need a permit. If you plan to use the building as a business, you will need a permit. Commercial zoning laws come into play when an outbuilding or garage is installed for business use. Adding a garage, whether attached or detached will require a permit.
The location and placement of the building may be restricted by zoning laws
In some areas, an outbuilding can only be placed in the backyard. Placement in regards to fences, trees, other buildings, and property lines are mandated by the city or county in which the building will be installed.
If your building will have electricity, a permit is usually necessary
If your shed will be wired for electricity, even for just a basic overhead light, a permit will likely be needed. All electrical requirements must be met for safety. Metal buildings in NC cannot draw too much electricity from a home's supply without causing potential problems. It's best to have a licensed electrician handle the wiring for your metal building.
Your homeowner's association may have by-laws that apply to outbuildings
Something else to consider when adding a metal building to your property is your homeowner's association, if there is one. HOAs often have by-laws governing the size, placement, and even the style and color of outbuildings. In some neighborhoods, an outbuilding has to have siding that matches the house. It may be against your HOA by-laws to install a shed in the front yard. There may be sizing regulations and other specifications that must be complied with as well.
Vega Metal Structures will Customize your Metal Building to Meet any and all Requirements
When you seek to obtain a permit for metal buildings in NC you will be given information about zoning requirements in your area. Vega Metal Structures can custom design your building to meet codes so that you can be sure your building is legal. Sheds, barns, garages, carports, and more are all designed and installed by Vega Metal Structures in North Carolina, South Carolina, Virginia, West Virginia, Georgia, Florida, and Tennessee.
Call (336) 799-4416 to inquire about metal buildings for your property.
https://vegametalstructures.com/wp-content/uploads/2020/03/vega-logo-new-6a.png
0
0
Chaunte Rankin
https://vegametalstructures.com/wp-content/uploads/2020/03/vega-logo-new-6a.png
Chaunte Rankin
2019-11-18 15:37:20
2019-11-18 15:37:20
5 Things You Need to Know about Zoning Permits for your Metal Building