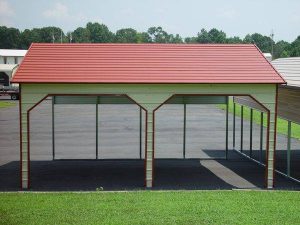 Are you considering purchasing a metal building? Outbuildings, garages, sheds, carports, barns, are more cost-effective than ever because they can be assembled of prefabricated steel. These buildings are sturdy, affordable, and functional. But before you decide on a metal building in NC, check out some frequently asked questions to help you make your decision.
How long does installation take?
It depends on the type of building, the size of the building, and the type of foundation you choose. A concrete foundation will need to be poured up to 72 hours before the building is installed to fully set. A larger building will take longer than a smaller building. There is no definite time frame for the installation of any building.
What are my options for a foundation?
Metal buildings can be installed over bare ground, grass, gravel, or a concrete foundation. Concrete is recommended for the best results. It provides a level, solid foundation for your building to be anchored to. Concrete is also best for parking vehicles of any kind as the tires will stay clean and dry.
Will my building be securely anchored?
Yes, each building is installed with a strong, secure anchoring system. Concrete foundations will have anchors set in the concrete. A building over the bare ground will have anchors placed deep in the ground to secure it.
Are metal buildings customizable?
You can order a building that is completely custom-designed or purchase a prefabricated kit. A custom metal building will be sure to suit your purposes and fit exactly the dimensions you need. You can even customize the style and color.
What type of metal is used?
All buildings from Vega Meal Structures are made of steel. Steel is resistant to rust, sturdy, durable, and affordable.
Can I install the building myself?
You can install your metal building yourself if you have experience. It's important that metal buildings are installed correctly on a level foundation. Incorrect installation could cause your building to leak, be weak in structure, and not last as long as it should. Professional installation by the manufacturer is recommended for the best results.
Do I need a permit to install a metal building?
Before adding any structure to your property you may need a permit from the city and county where you live. You may also need to get permission from the HOA (Homeowner's Association) if your neighborhood has one.
Can I add on to my building later?
If you decide that you need a bigger building, additions are possible without having to replace the entire building.
Where is the best place to get a metal building in NC?
Vega Metal Structures and Concrete, LLC custom designs, manufactures and installs metal outbuildings of all kinds from garages to barns to sheds and more. Quality materials, precision engineering, concrete expertise, and reliable installation proves to be a winning combination.
Call (336) 799-4416 to order your metal building today.
https://vegametalstructures.com/wp-content/uploads/2020/03/vega-logo-new-6a.png
0
0
Chaunte Rankin
https://vegametalstructures.com/wp-content/uploads/2020/03/vega-logo-new-6a.png
Chaunte Rankin
2020-03-11 15:20:27
2020-03-12 13:10:46
FAQs About Metal Buildings